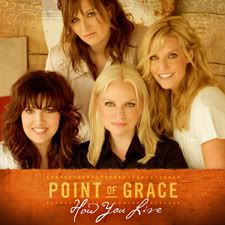 Can I just say I HEART my Point of Grace girlies?? They are my all time favorite gospel group. I own every single one of their CD's and listen to them daily! By the Pool. At the computer. In the shower. In the bed. In the van. Everywhere! I never get tired of them. Never....
Now let me just preface by saying.....
I am not getting any money for this
I am not getting any CD's for this
It's only because I HEART Point of Grace so much that I just had to share this with you!
I'm always on the lookout for anything new from POG. Don't get me wrong I LOVE everything they have put out but like any fan I long for something new.....
Sooo......
Imagine my surprise when I hear that after more than 3 years they are releasing a NEW CD!
Could this rumor possibly be true?? I rushed right over to their website to see for myself.
Squeeeeaaal!!! I could barely contain myself! It was....
TRUE!
I truly meant to post this sooner but no worries! There is still time!
The new CD How You Live IF you pre-order it is ONLY $7.99 folks! Thats not a sample CD but rather a FULL LENGTH CD!
Holy Cow!
That price not only includes the CD but you also get....
A fully autographed copy
Advanced listening online to the whole CD with a special code
AND a chance to win a phone call from POG
Can I just Squeeeeeaaal one more time!??
I've already ordered my copy plus one as a gift for a friend and I can hardly wait! I'm on their sight constantly listening because well....
I just can't wait!
There's not much time left as this ships on 8/28 so walk on over...
No RUN before they run out of copies at this price and we all know that when it hits market the price will most likely be at least double that without all the perks!
For those of you unfamiliar with POG, you can get a little taste of the new CD by previewing "How you Live" set to a touching video and listening to the full version of "All the World".
I just know they will bless your socks off!
Sweet Nectar for the Soul I tell ya.....
SWEET NECTAR
One more thing....
Tomorrow night 8/16/2007 .....There will be an online chat LIVE With Leigh to discuss the new CD, the tour as well as answer all your questions .
Don't miss it!
I know I'll be there!