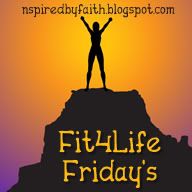 I"m just now jumping on board with Fit For Life but have been trudging right along since May with Tales from the Scales. Hey I figure the more people I have to be accountable to the straighter the line I'll walk! :0)

My loss for this week is 4 pounds bringing my total weight loss since May to 48 pounds! Ahhhhh! I can just smell that 50 pound mark. Maybe next week? We shall see! :0)

TIP: Portions and Serving Sizes

One thing I've struggled with was giving up the wonderful foods that I like. I always ask myself this...

"Can I eat this way for the rest of my life?"

If your answer is NO then you probably won't. This will eventually revert back to that vicious cycle of rollercoster weight gain/loss ultimately leading to a big FAT failure.

First off you MUST....Let me repeat that one more time.
You MUST control your portions.
Once you've conqured that you are well on your way to a big FAT errrrrr SKINNY success! :0)
So what I've done is take my MOST favorite foods. Gosh is that even correct English?? Oh well I'm not here for an English lesson! Anyway, make a list of your favorite foods/dishes and then MODIFY! You can still have what you want just make it healthier and I promise if you get really creative you will not suffer one bit in the taste area.
Now I'm not saying you can't have a sloppy cheeseburger or a dripping oeeey gooooey cheesy pizza. Heavens NO! I would just die if I could never pass my favorites (unmodified of course) through this pie hole of mine. hehe
What I am saying is save those items for a special treat or reward. Once you get to your goal weight you will be better able to enjoy those things in moderation but for now.......
LIMIT them and....
MODIFY!
OK so what I'm thinking is I need to give you an example of something I've modified and LOVE. I wonder....Are you in the mood for Savory or Desert? Hmmmm....
Lets start small...
Home-made Potato Salad
Ingredients:
Potatos (Adjust this according to how many you are feeding....I generally use no less than 12 because I like to eat on it for days plus I like having it on hand when guests arrive for a cookout)
Fat Free Miracle Whip
Mustard
Light or Fat Free Sour Cream
Bread and Butter Pickles
Pickle Juice
Onion
Salt
Pepper
Garlic Powder
Splenda
Serving Size: (Remember portions here not the whole bowl! LOL
1 cup is generally just right for me.
Dice up your potatos and then boil them till they are fork tender. Drain and rinse your potatos to get rid of the starch. Salt(I use Morton Lite Salt), Pepper, Garlic Powder(I like LOTS of garlic). Onion(I LOVE onion so I dice up one big one and use the whole thing) But, you should certainly add all these to your taste.
OK I'm one of those cooks who rarely measures so this is a guestimate on amounts. Mustard(1/4 cup), Fat Free Miracle Whip(1 cup), Fat Free or Light Sour Cream(1 cup), Bread and Butter Pickles(I use only about 6 chips then dice them into very small bits so they go throughout the P. Salad) and a Splash of Pickle Juice. Stir all this together then taste. You might need to add more Mustard or Miracle Whip depending on your taste. I go for really creamy! Last, you'll want to add some splenda. (I'd say start with about 2 TBS. then taste it. I generally add about 4 TBS. BUT, its' easier to add than take away! ;0)
I use sugar alot in my cooking but because of a recent diagnosis of glucose intolerance I've had to MODIFY! Your certainly welcome to use regular sugar however, it does contain calories and kinda defeats the purpose here. Besides, the splenda is TDF!
And if you think I'd let that potato salad be all lonely ah well then you don't know me well yet! I'm a HUGE carnivore and that potato salad is generally lying alongside some oooooeyy gooooey dripping sticky ribs or BBQ chicken all on the grill......
MODIFIED and HEALTHY of course..... ;0)
Just wait till I tell you bout my home-made ice cream made with splenda! Holy Cow!
We'll save those for another day. :0)
Enjoy and Good Luck!