Because I was Grillin'........And because you asked
This ones for you
Lisa
BBQ Chicken on the Grill
Ingredients:


Boneless, Skinless Chicken Breast (1 breast per person)
BBQ Sauce(Use your favorite)
Honey
Dry Rub(ingredients below)
Worchesteshire Sauce
Cooking Spray(I use butter flavor)
Did I mention I heart my grill? Just thought I'd mention it. :0)
OK this is really simple! You ready?
My chicken generally comes straight from the freezer so to prepare this icy little bosom you will need to do one of two things.
Zap it in the microwave OR Boil them till done. For times sake as it was nearing dusk....I chose to zap mine! Well let me just fess up and be honest here. It's because I'm really scared of bats and when its near dusk, those buggers seem to always know the moment I step my little piggy toes out on the back deck........Pesky little critters!
~~Shiver~~
Anyway, either way is fine but I do recommend choosing one of those methods. It not only makes the meat very tender and safer but also cuts down on your cooking time at the grill plus on this particular evening it prevented an all out war between me and those pesky winged nightmares!
Said poultry bosom getting ready for a whirl in the nuclear sauna!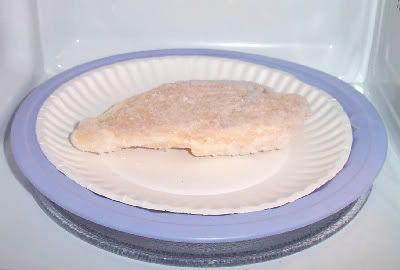 While your chicken is takin a spin you might want to prepare your dry rub.
The dry rub is really simple and is just a combination of your favorite spices. I'll include what I use but certainly you should use your favorite ones.
Once again I'm horrible about not measuring so just a shake of this and a shake of that is my motto! LOL
Basically you'll want to do equal parts of each spice except the splenda in which case I go half of what I use for the other spices. Just remember you will need enough dry rub to add 2 Tbs per chicken breast. One Tbs for each side. All you'll need to do is adjust based on how many you are feeding.
The following will do about 6-8 chicken breasts.
Lemon Pepper(2 Tbs)
Chili Powder(2 Tbs)
Cajun Seasoning(2 Tbs)
BBQ Seasoning(2 Tbs)
Salt(2 Tbs)--I use Morton Lite Salt
Pepper(2 Tbs)
Garlic Powder(2 Tbs)
Lemon Pepper(2 Tbs)
Splenda(1 Tbs)
Once you get the dry rub finished you should go prepare your grill. I'm using a gas grill and I cover my cooking area with aluminum foil. This makes for a quick and easy clean up and no scrubbing the grill! Yay! Now spray the foil with your favorite cooking spray and light her up!
Notice I've applied the dry rub to the first side.
Sizzle Sizzle!
No peeking for about 3 minutes or so! What your looking for is some nice grill marks and remember your chicken is basically cooked so what we're going for is just enough time to get that good grill flavor.
OK flip!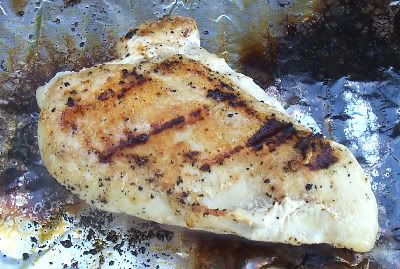 Notice I haven't added the dry rub to this side yet. In fact you will just have to imagine it because I distinctively felt the flap flap of one of those pesky winged critters so no pics! eek!
Hurrying right along.
Finally!
I'm indoors with said chicken breast and even though this looks particularly yummy as is.......It's not finished just yet!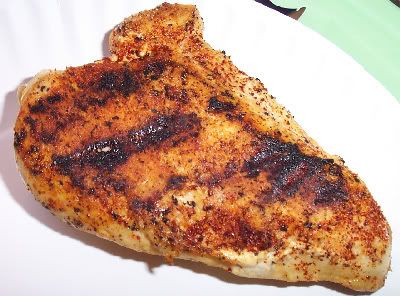 You'll want to make a nice little foil tent(to keep it warm) over your chicken while you prepare the wet rub.
Wet Rub:
BBQ Sauce: 2 Tbs (Use your favorite.....I use the brown sugar flavored)
Honey: 1 Tbs
Worchesteshire(Just a splash)
The above wet rub is only enough for 1 chicken breast so adjust accordingly. If your serving two people then just double that recipe and keep multiplying to accomodate the guests you are serving......
Now to finish this off!
Spoon or brush both sides of the chicken breast with all that lovely ooooey gooooeyness!
See how it just glistens?? Yummo!
And just in case your wondering......
My complete meal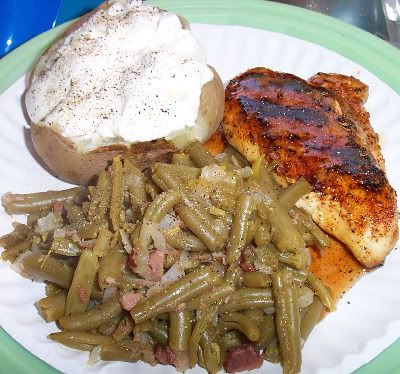 And no your eyes do not deceive you. That would be my most often used best china! Paper plates! LOL
Let me just also add that I used to be one of those grill chicks who could use a whole bottle of BBQ sauce each time I grilled. Yep! I surely could! No problem!
However, because of some recent health concerns I've had to carefully monitor my intake of sugar hence my use of splenda in everything I make now. Your certainly welcome to use real sugar but I promise the taste is not compromised or lacking at all in my recipe modifications not to mention how much healthier it is!
I hope you enjoy this Lisa and I'm sorry its taken so long to get a grilled recipe to you! Let me know how you all like it. :0)