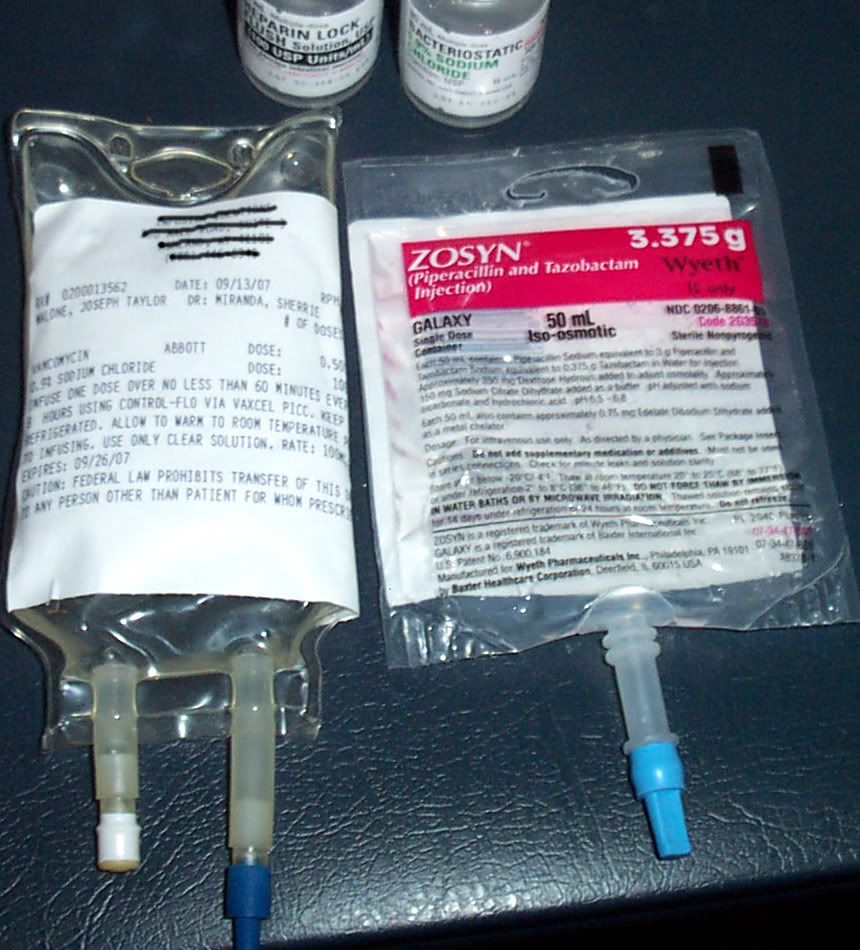 Thats it!
We're finished!
Nada!
Complete!
It's over!

It's been exactly 24 hours since I hung the last 2 doses of Jophies antibiotics and, in less than 6 hours a nurse will be here to draw labs and pull that PICC line!

Wheeeee!

I'm so excited yet scared at the same time. We've been "at this point" before only to have to begin all over. I'm believing with ALL MY HEART that "this time" it has worked!
Jophie does look better. In fact he seems better to me than he has in a long time. He's still struggling with all the side affects of such strong antibiotics and his hair is falling out bit by bit. It's so thin I can see his scalp through his hair and he barely has any bangs left to speak of. This may sound stupid but I was so sad to see this happening. Jophies hair has always been the first thing people comment on and the first thing they touch. Most any girl or woman for that matter would kill for his hair!
It's thick
It's wavy
It's shiny
It's a beautiful shade of Sable
It's just plain gorgeous!
Only for a moment did I feel this way and then.....I smacked myself right outta that whiney boooo hooooey woe is me world and right back into reality!
Hair is just hair....nothing more. He could be slick head bald for all I care because you know what.....
HE'S ALIVE!
Jophie has fought his way back to the top once again triumphet! He may be a bit banged up and yes, he's sporting a few more scars and bruises and less hair but, he's here and in the end thats all that matters!
Hair is really over rated ya know :0)
Now to get some rest for this weary body. I can't believe its only 4:00 a.m. and I'm done! I just finished up Jophies last tube feed and last meds for the night!
Dare I even whisper the words??
4 hours of sleep IN. A. ROW. folks! Count em!
F.O.U.R.!!! Wheeee!
See ya!
Zzzzzzzzzzzzzzzzzzzzzzzz