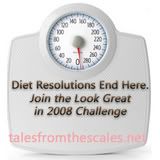 Well here I am again. Posting that is :0)
I've actually been here all along since way back in May when I first began. Over the last few weeks my time has been quite limited as my little boy has been hospitalized several times. I'm really sorry I haven't been more supportive but quite honestly my time has been consumed with just keeping him alive.
For the past 2 weeks things have settled a bit. Granted his schedule is still very demanding but through it all I've managed to keep my eyes forward focasing on my goals. During his hospital stays I wasn't able to excercise like I normally do however, I still managed to lose rather than gain. Not huge amounts like when I was excercising but, a loss is a loss and I'll take that any day! :0)
I'm so thankful that I've been able to make it back to they Y and begin swimming once again. Just after 2 days I can already see a difference. I began this little journey on May 22 and to date I have lost 55 pounds and lots of inches. I have been taking pictures along the way but I'm not ready to share those just yet. I still have a long ways to go but I'm still going strong! I'm praying Jophie will remain well enough for me to continue on with what I've grown so accustomed to doing. Not only is swimming my most favorite thing to do but its one of the best excercises not to mention it has become my only reprieve from the stress of dealing with a medically fragile, chronically ill child. I can't even express how much better I feel when I'm able to get just that little 2 hour break.
My hope is that I will be able to pick back up following along and posting on Wednesdays. We big beautiful women do seem to do better in packs afterall! :0)
Good Luck everyone! I wish you a very successful week ahead! :0)