Let us rejoice and be glad in it.............
Jophies surgery is later today. At the moment is 4:00 a.m. and they just made him NPO till the surgery. Ped surgeons have 14 cases tomorrow aside from any emergencies. Jophie is last on the schedule so his will most likely be somewhere between 8-11 p.m. They really couldn't give us an exact time cause typically they are behind anyway and there are almost always unforseen problems. Regardless, it will be sometime tomorrow night.
The risks are great. Much greater than I anticipated. My choices once again are grim at best. There's bad and then there's worse. I'm backed in a corner facing 2 evils. Without this he will die. With this he may die. The percentages are far greater than a normal child because of his overall condition then factor in he's compromised at this moment and the odds become even greater.
I've struggled with this for days. Praying and crying out to God for the best answer. Any answer. All those involved in his life/care are on the same page. Friends, Family, Pediatrician, Experts, Surgeons all feel like/KNOW this has to be but knowing that doesn't make this decision any easier.
Ultimately I'm the one who has to sign the dotted line. I'm the one making the final decision. I'm the one holding his life in my hands. I'm choosing life for him which could ultimately lead to his death.
Now find a quiet place. Sit down and say that out loud to yourself then imagine its your child. I'm sure you felt the same cold chills run down your spine that continue to make their way up and down mine.
It's a hard place to be in yet I can't run from it. I'd love to mind you. Run very far away with Jophie in tow and hide but then my head clears and once I again I stand toe to toe facing these giants.
When all is said and done I know God is in control. Preparing me now unfolding the way for all my tomorrows and whatever I'm to face. I'm so glad he's already in my tomorrow walking one step ahead and regardless if its joy or its sorrow I know he'll do just what he says. He will never leave Jophie and I alone and God is still God in spite of the odds. This I have to hold tight to. Believing with every ounce of my being.
There is no room for doubt.
NONE
That being said. All I ask is that if you pray please do with all that is in you and do so believing. Believe in what your asking for. Believe it like you've never believed before.
On a good note Jophie is more stable than he has been in the last couple of weeks which can only help the odds for this surgery. He continues to require 12 liters of oxygen(50 %) during wake times. At night he continues to wear his Bipap at 55 % oxygen. Looking at the overall picture this is an improvement as he was requiring 100 % and on Bipap 24/7 for the first 4-6 days and even at that was BARELY keeping his oxygen saturation in the 80's. For comparison at home prior to this he only required 2 liters and often times only 1.
Some of the biggest concerns tomorrow.
1. Intubation is going to be difficult at best. They can not just place the trach without intubation because IF the surgeon is unable to place it then he would be left without an established airway in which case he would die. We just need them to be able to do this ONE MORE TIME. Just ONE MORE. FYI: It's been over 4 years since he was last intubated and the progression of his Kyphosis/lung deterioration is significantly greater.
2. Placement of the trach. This too is going to be VERY difficult. Because of Jophies shape his trach is not near the throat like it should be but rather at the top of his breastbone. The surgeon said this will be his hardest placement ever.
3. Post complications are quite high. Much higher than I would like to see. Because he is already colonized with Pseudomonas his chances are much greater of contracting tracheitis or some other horrible infection in the trachea. Many other complications could arise due to his shape and location of his trachea.
There are many more but those are the major hurdles.
I will have my laptop with me at all times tomorrow so there will be current updates. My MSN messenger will turned on as well as my cell phone for those of you who have access to me that way. Please do not be offended if I do not answer right away or not at all. I will however do my best to keep everyone updated as I am made aware of things.
As I sat here yesterday evening I had a very rare moment to catch my breath. Jophie was sleeping very peacefully. The rooms on this side of the unit had been emptied of all its little occupants all of whom were well enough to return to the safety of their parents arms. Parents who only weeks before were skipping merrily through life never once thinking they would be on this side making life and death decisions about their most cherished possesion all the while entertaining thoughts of life without their child. Would they have believed that just days ahead they would be in this place? Most will tell you no yet here they stand on my side facing some of the very same monsters. They will leave here forever changed because they too have tasted death. They will leave here with a greater love for their child and things that once seemed important will seem trivial. Life as they once knew it will be changed and if asked they will tell you they are better because of it. I don't think there is anything more capable of putting things into prospective than the planning of your own childs funeral. Something I wish no one had to face.
And in the stillness as darkness began to fall I was reminded once again of Gods grace and his presence that is clearly etched in every shadow and orange hue. Just out the window a masterpiece painted just for me and directly behind me lying quietly in his bed another masterpiece created with the very same hands both perfect in every way.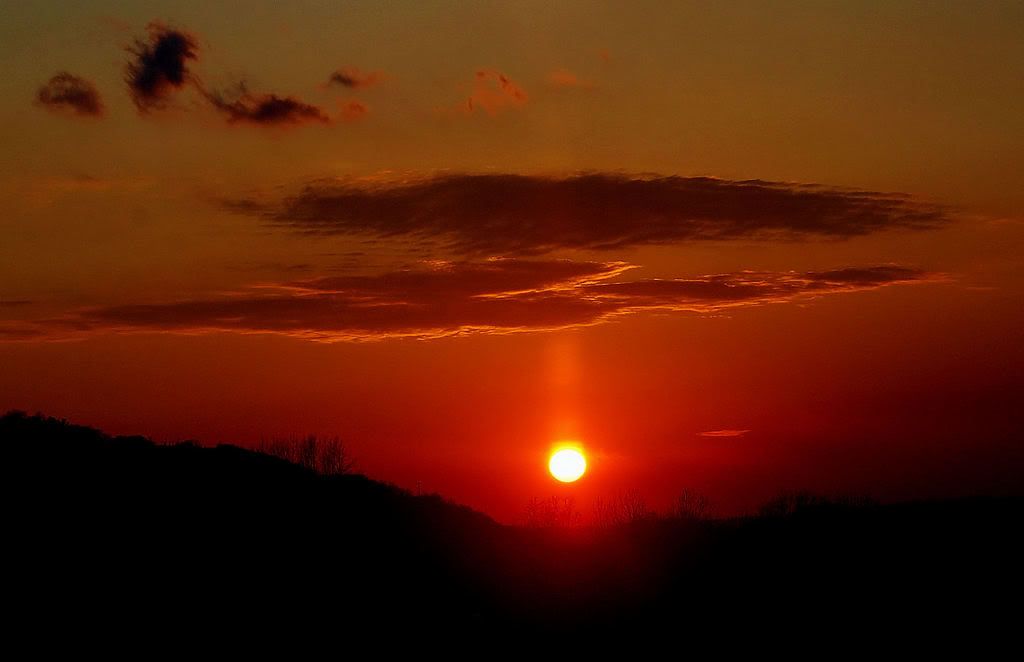 And a few pics from the last couple days of my scruffy steroid moon face boy :0)
http://www.practiceboard.com/?8316331

Thank you all for standing firm with us and more importantly for Loving Jophie.

All our Love,
Trina and Jophie